I have been slacking on posting lately! We had a busy month and it went way too fast! Let's hope we can slow down a little bit now that it's February! I am starting this month in photos project....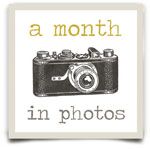 A month in photos...January 2012
January 2012
Chloe got to meet the triplets - Opal, Scarlett and Issac.
We played outside in weather that definately did not feel like it was January.
We finished painting and decorating Chloe's big girl room.
We made love bugs.
We had a girls day with Angela, Izzy and Kenzie at Mobius and also saw "Beauty and the Beast" in 3D.
We brought snow inside the house to play because it was too cold to play with it outside.
We started building a shop.
We played outside in the snow while it was snowing.
Ariel went to the "village" so we got a new kitty - Megs.
Daddy and Mommy watched Chloe at dance practice.
We went to Mobius to celebrate dance friend, Arianna's 5th birthday.
We enjoyed a girls day with Grandma and saw "Beauty and the Beast" on Broadway.
We had our living room and kitchen repainted.
We went to Wilbur for dinner at Grammie's to celebrate Auntie D's birthday.
We had to say goodbye to our Coleboy:(